Why Us?
When your offer for the property you're interested in gets accepted, your next step is to find a solicitor to do your conveyancing,
In some cases, the real estate agent will recommend someone. If you're cautious, you're going to think twice. Their recommendation, most often than not, is because they get some commission for their referral so you might want to consider doing your own research. Occasionally, some buyers will go with a friend who is a lawyer. While you know that a lawyer friend will be trustworthy, if that friend of yours does not specialise in property law, then it's still better for you to consider other options. Now you turn on your computer and find on the internet a firm that offers the said service.
What you'll do now is to make multiple enquiries asking for a quote and when the quotes come back, you will most likely do a price comparison on each one. Do take note that the cheapest is not always the best choice even if a budget is one of your major considerations. The quality of work bears the most weight because, at the end of the day, it is a peace of mind and hassle-free process that you're after.
At LEAD Conveyancing Ipswich, conveyancing is at your fingertips. You can be sure your file is being handled by a professional and well-experienced property lawyer who will be able to act on your behalf and protect your interest as the buyer or seller. Communication is one of our top priorities so you know you're not kept in the dark. The best part - we are one of the most affordable quality lawyers you'll find out there!
Our Services
Ipswich Conveyancing quote
When you look for a property in Ipswich, you should also start hunting for the right firm to do your conveyancing.
Not all firms are the same, though. Some are conveyancers and others are solicitors. While it is highly advisable that you go with a solicitor rather than a conveyancer, not all solicitors are experts on property law and not all law firms offer the same rate. It is better if you can find one that focuses on and specialises in property law. What you want to find is an expert specifically for this field.
Here are pointers on what you need to look for:
Preferably a law firm and not just a conveyancer.
A firm composed of property lawyers and focused on conveyancing only.
Someone that has a fixed fee or flat rate for their legal services.
Someone who can lay out what searches they have to order, what they're for, and the cost for each.
A team that keeps constant communication and consistently provides updates especially when needed.
Ideally, a firm that can do all these just by phone and email. It's the 21st century!
At LEAD, you will find all of the above. Our team is mainly formed of property lawyers only and they have been honed in the business for years so you're sure they know what to do in every nook and cranny of this business. You're definite that your interest can be protected and represented whether you're a buyer or a seller.
How we provide Cheap Price
You may ask…"How can solicitors provide their services at a very cheap price?"
"Will I still get quality service?"
Absolutely! And here are the keys to how we do it.
Specialisation
Use of modern resources
LEAD Conveyancing Ipswich formed a crew consisting of property lawyers only. The reason why other law firms are still expensive is that they have lawyers with other skill sets and specialisation. These professionals would also have a higher rate. Focusing on the talent that we only need, we are able to cut down on costs and at the same time enhance knowledge and experience in a specific area of expertise.
We have also embraced and adapted 100% use of modern resources also known as technology. We have eliminated the use of paper documents, got rid of wasted time on face to face appointments, travel costs, and other unnecessary expenses. With this business model, we can provide our legal services to clients at very reachable and affordable prices. Now, getting a quality property lawyer does not need to be expensive!
Why do you need Solicitors in Ipswich?
Conveyancers? Or solicitors? - that is always the question.
To cut it short, conveyancers are licensed people to do conveyancing while solicitors (or property lawyers to be precise) are licensed professionals who have more scope and can protect your interest no matter how complicated your transaction may be.
Conveyancers will be limited to just follow a checklist or step by step process whereas property lawyers can scrutinise the contract and let you know if there are clauses that pose potential risks in your transaction. Property lawyers also have the capability, expertise, and knowledge on proper wording required when your contract needs amendment. And yes, property lawyers may cost a bit more compared to conveyancers but hey - this is a 6-figure investment of yours. You wouldn't want to find yourself in a mess later on and realise you're going to be spending more than you should have because of penalties, missed deadlines, and overlooked details.
When you get a solicitor over a conveyancer, it's like you putting on a bullet-proof vest before going to war. You're not certain you'll need that extra protection but you know that it's better to have it and not need it than to need it and not have it.
About Ipswich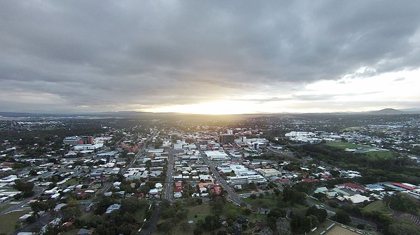 Ipswich is an urban region in South East Queensland which is approximately 40 kilometres west of Brisbane and 94 kilometres from the Gold Coast. It began as a mining settlement in 1827 and is renowned for its natural, architectural, and cultural heritage. Ipswich was also initially named "The Limestone Hills" due to it being a limestone mining settlement, which later was shortened to "Limestone". It would then be renamed in 1843 after the town of Ipswich in England.
Ipswich has a rich history and a vibrant cultural scene, making it an ideal place for a weekend drive. It has a humid subtropical climate with hot summers, warm winters, cool overnight temperatures and heavy summer storms. Dubbed as Queensland's oldest provincial city, it offers a well-preserved link to the past through magnificent old buildings, beautiful parks, a creatively eccentric food and shopping precinct, known to many as the Top of Town. You can enjoy a quick meal or coffee before heading out to explore more than 5,000 hectares of conservation estates and parkland by foot, horse, or bike.
With its important collection of historic structures, house types would range from Early Colonial or Victorian from 1850 to Queensland bungalow in 1935. The city displays many markers and plaques outside heritage and historical locations. The old Ipswich dwelling has always been a detached home on land which is frequently seen in the paintings of the Australian painter of landscapes and historical scene, d'Arcy Doyle. This, however, is changing as modern housing developments arise, making the city the fastest-growing area in South East Queensland.
Buying a Property
When buying a property in any city or suburb, may it be for dwelling or investment purposes, one of the major things you would normally consider is the area's tourism and attraction. With Ipswich being an older city than Brisbane and just a half-hour drive away, there are a lot of things to do, places to explore, heritage to discover.
Workshops Rail Museum - an award-winning museum which was a previous workplace of 3,000 railway workers
Top of Town - a long stretch of cafes, restaurants, boutiques, and vintage stores on Brisbane street makes this the city's shopping precinct
Queens Park - this is one of Queensland's oldest parks where a monument was erected in 1864.
Ipswich Art Gallery - one of the country's first to offer a dedicated children's gallery, this is one of the most visited art galleries in Australia
Farmers' Markets - a stack of markets offering food, goods, and local wares
88 Limestone Street - this heritage-listed area from 1910 is now a place where you can enjoy food, ice cream, and beers
Floating Images - this is hot air balloon experience will give you an awesome view of Ipswich, the Scenic Rim, and Somerset regions
Hidden Vale Adventure Park - a mountain biking hotspot that is free to use where a once a year Cycle Epic event is being held there
CMC Rocks - this is Australia's biggest international country and roots festival where the hottest country music stars are featured every March
Ipswich Civic Centre - a cultural destination for big live events and is located in the city centre
Ipswich Antique Centre - this antique centre which occupies an 1895 heritage-listed building offers a massive range of collectable furniture
Cobb & Co Tourist Drive - this historic drive takes tourists along the 1860 Royal Mail coach route which carried Cobb & Co passengers around 140 years ago
Willowbank Raceway - this race track has a yearly program of events such as the Winternationals in June (largest drag racing event outside of the USA)
Ipswich Festival - every April, this is a three-week-long festival showcasing programs of art, comedy, music, theatre, and more
CJ Vogler and Son - Australia's longest-running hobby shop which has been open and operating since 1877
Property Selling
With a population of about 207,000, Ipswich is one of the country's largest city councils and one of five municipalities making up Greater-Brisbane. The city has an increasing number of property investors and Ipswich often pops up on property hotspot lists with its incredibly affordable housing and the general positivity around South East Queensland. Here are a few selling tips:
First look  - stand outside your home and notice things through your prospect's eyes. Take out eyesore such as rubbish and make sure everything is clean.
Inviting - the house should be welcoming and should be neat and tidy. Plants and fresh flowers can brighten up the rooms.
Fix repairs - fix minor repairs as these would only cost a few dollars but will keep any visiting prospect.
Lighting - give your house that light and airy feeling by opening curtains and letting natural light come in.
Space - give your prospect space to inspect the house by not having people in there during inspections. Your prospect needs to have a good look.