Why Us?
When you buy a property, conveyancing is needed to transfer the title ownership to your name. To do this, you have 3 options.
D-I-Y
A conveyancer, or
A property lawyer.
Properties are a huge investment for an individual. Yes, you can do it yourself but you probably won't have the time nor the expertise. On the other hand, although you can hire a conveyancer, they can only perform the process but cannot protect you legally. Your best option is a property lawyer. They can review and draft contracts and you're surely covered legally. Remember, it's your 6-figure investment on the line.
LEAD Conveyancing lawyers have the professional license to act on your behalf and can protect you even if the situation becomes complicated. When things go bad, it's best to have a property lawyer on your side.
Our Services
Caloundra Conveyancing quote
Not all law firms are the same.
Some law firms have litigation lawyers, family lawyers, etc. They are expensive, costing you around the 25-hundred dollar mark. Some lawyers also charge by the hour or how many times you've called them.
So when you need conveyancing, look for a property lawyer. They go beyond just processing a title transfer and can provide advice on the contract. They can also amend and provide proper wording on your special conditions. Just like a trusted utility provider, you'll want a go-to firm for all your needs.
At LEAD, we represent our clients when:
Selling a property,
Buying a property, or
Performing a Title Transfer
When you buy a property, we scrutinise the documents to identify any risk. When you're selling, we structure your contract and tilt the document's wordings to your favour. When you need a title transfer, we represent both parties.
How we provide Cheap Price
When you need electrical work done for a small property, will you hire an electrical engineer? Or just an electrician?
Exactly. You're not going to hire someone overqualified because that will cost you too much. In the same way, you won't get someone who's cheap with doubtful job quality. You want someone with a reasonable price and can deliver quality work. Ideally, lawyers specialising in property law are what you should be looking for.
Why do you need Solicitors in Caloundra?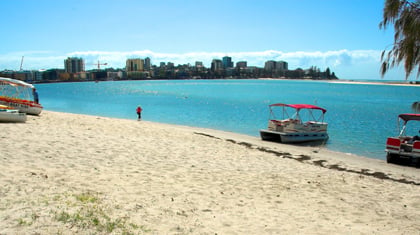 Although doing conveyancing yourself is technically doable, it is not advisable as it is very risky.
Given that, you are left with either getting a conveyancer or a solicitor. What's the difference?
Yes, solicitors are more expensive by a difference of about one to two hundred dollars compared to a conveyancer. That's because they offer a wider scope of work. Conveyancers can't deal with legal issues. When issues related to clauses and
special conditions arise, don't find yourself stuck with a conveyancer. If the situation will require you to get a lawyer in the middle of the process, you'll end up spending more than what you should have.
About Caloundra
Caloundra is the southernmost town and a coastal town on the Sunshine Coast Region in the southeast part of Queensland, in Australia.
Caloundra is 90 kilometres or 55.9 miles north of the Brisbane CBD or central business district. It is accessible from the Caloundra bus station and the Landsborough railway station, which is 21 kilometres away.
Buying a Property
Caloundra has a list of heritage-listed sites, which include:
Tripcony Hibiscus Caravan Park - on Bowman Road
Caloundra Lighthouses - on 3 Canberra Terrace and 6 Arthur Street, Kings Beach
Kings Beach Bathing Pavilion - on Ormonde Terrace, Kings Beach
Caloundra is not purely defined, but the boundary used for census purposes by the Australian Bureau of Statistics and the urban zone determined by the Sunshine Coast Regional Council (which was formerly the Caloundra City Council) almost exactly match. This region is surrounded roughly by the Mooloolah River and Rainforest Drive to the north, Currimundi Creek, Bruce Highway and Beerwah State Forest to the west, Bells Creek to the south, and the Pumicestone Passage and the ocean to the east. The CBD or central business district of the area is situated on Bulcock Street, Caloundra.
The Caloundra urban centre comprises of the following suburbs:
Aroona
Baringa
Banya
Bells Creek
Battery Hill
Caloundra (suburb)
Corbould Park
Caloundra West
Currimundi (part)
Dicky Beach
Golden Beach
Gagalba
Kings Beach
Little Mountain
Nirimba
Moffat Beach
Meridan Plains (part)
Pelican Waters
Shelly Beach
Property Selling
The Sunshine Coast Airport, located at Marcoola, services the region of the Sunshine Coast, including Caloundra. A smaller regional airport is also situated at Caloundra.
Sunbus Sunshine Coast, which operates the Caloundra bus station, services the suburbs of Caloundra. Bus routes 609, 607, 605, 603, 602, 600 connect Caloundra to Kawana Waters, Buderim, Maroochydore, and Landsborough.
On the Sunshine Coast line, Landsborough railway station has regular services to Brisbane on Roma Street railway station, operated by Queensland Rail. There are numerous bus companies delivering coach services from Caloundra to Brisbane Airport.
Since 1933, census populations have been recorded for the Caloundra urban centre. It is divided between the Caloundra South and Caloundra North statistical local areas, since the 2001 census. The drop between 1981 and 1986 shows an adjustment of the boundary with the urban centre of Kawana Waters.
Caloundra has a range of beaches that provide amenities to tourists and local residents.
Golden Beach
Bulcock Beach
Kings Beach
Shelly Beach
Moffat Beach
Dicky Beach
Other attractions include Aussie World on Caloundra's outskirts, situated at the Glenview turnoff on the Bruce Highway. Also, the Corbould Park Racetrack which is home of Sunshine Coast Turf Club holds an important race meet with the Group 3 Sunshine Coast Guineas and Listed Caloundra Cup during the Queensland Winter Racing Carnival.