Why Us?
When looking for the right conveyancing firm, you will see a lot of options.
Solicitors, conveyancers, companies, local firms, freelancers - each of them has its own differences.
How do you choose the right service? What should you look for? What are the things you should beware of? Here's a list to help you out so you can make an educated decision.
Find someone who has the following:
Fixed professional fee
Transparent costs
Great reviews and constant communication
At LEAD, you get all of them - fixed legal fees, transparent costs, and constant communication. Our team was built with a mission to make sure both our and the client's expectations are aligned. We set their expectations and we make them aware of how we provide service and how much are the costs.
Our Services
Hervey Bay Conveyancing quote
Now, let's continue. A while ago, we discussed what you should look for in a firm.
Conversely, you should stay away from the following:
Absolute fixed fee - The legal fee is the ONLY ONE that's fixed. Searches are an estimated price because it's a cost from the council which only they have control on.
Hidden costs - All costs related that will appear in your invoice should be laid out in your quote. Each search should be listed, defined, and stated with their corresponding prices.
Poor communication - Check for reviews. Only a few are able to maintain constant communication. As a client, when you ask for updates, you expect a reply. When you call, you expect to speak with your solicitor. If it's not the case and you see unhappy clients, you better look around for other options.
How we provide Cheap Price
When looking for conveyancing companies, you'll find our quote as one of the most competitive.
So how do we provide quality service at a very cheap price? It's all about simplifying processes and riding the waves of technology.
Technology is designed to make our lives easier so adapting your business to it will reduce your costs. We also simplified by getting property lawyers only. This way, we cut costs and lower our rates making it affordable for everyone.
Why do you need Solicitors in Hervey Bay?
It's no secret that a solicitor is always a better choice than a conveyancer.
So why is it wiser to get a solicitor over a conveyancer? It's peace of mind and security.
You get both only from a well-experienced property lawyer. When you decide to go with a conveyancer, more often than not, it's because their price is cheaper.
When there are disagreements, a conveyancer can't protect you legally. You will then have to find a lawyer making you spend more than what you should have. Why? Because it's more expensive to have a lawyer take over a job especially when it's already less than 21 days before settlement. Dates have to be met and missed deadlines equal huge penalties. You may save now but you wouldn't want to be crossing fingers through the course hoping nothing happens.
About Hervey Bay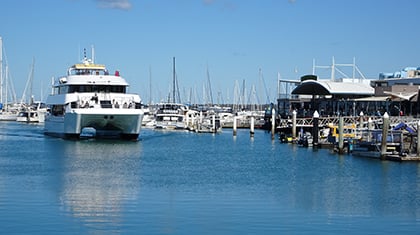 Hervey Bay is a municipality in the Fraser Coast Region of Queensland in Australia. It is situated about 290 kilometres or 180 miles or 3.5 hours of highway drive north of Brisbane,  the state capital. Open to the Coral Sea between nearby Fraser Island and the Queensland mainland, it is located on the bay of the same name. The local economy depends on tourism which is primarily based around whale watching to the north in Platypus Bay, accessible recreational boating and fishing, ferry access to Fraser Island, and the natural calm beaches with wide foreshore zones that are undeveloped. Hervey Bay was known as the First Whale Heritage Site in the world, in October 2019, by the World Cetacean Alliance, due to its practices of and commitment to sustainable dolphin and whale watching.
Buying a Property
According to the 2016 Census, there were 52,073 people in Hervey Bay. And as of June 2018, there were already 54,674 people, having grown by a yearly average of 1.31 per cent every year over the last five years.
About 4.0 per cent of the population are made up of Aboriginal and Torres Strait Islander people. The median age of people in Hervey Bay was 48 years. It is 10 years older than the national median age. About 74.6 per cent of people were Australian born while 5.9 per cent were English, 3.5 per cent were born in New Zealand, 0.8 per cent were born in Germany, 0.6 per cent were born in Scotland, and 0.6 per cent were born in the Philippines.
88.4 per cent of people spoke only English at home while 0.5 per cent spoke German, 0.2 per cent spoke French, 0.2 per cent spoke Mandarin, 0.2 per cent spoke Dutch and 0.2 per cent spoke Italian.
About 28 per cent said they have no religion, 20.5 per cent were Anglican, and 18.9 per cent were Catholic.
Property Selling
Hervey Bay has sub-tropical weather with an average of 30 degrees Celsius or 86 degrees Fahrenheit in summer and 22 degrees Celsius or 72 degrees Fahrenheit in winter. The coast is mainly affected by the south east winds all around summer with intermittent strong northerly winds and storm surges. The temperatures in summer are kept down by these winds and preventing temperature extremes in winter. As such, Hervey Bay seldom experiences temperatures above 35 degrees Celsius or 95 degrees Fahrenheit in summer or below 5 degrees Celsius in winter.
At times, tropical hurricanes are a threat with Cyclone Hamish threatening as a Category 5, in 2009. The land mass of Fraser Island notably affects the pattern of climate in Hervey Bay and protects the marine environment from storm effects. In 2013, Cyclone Oswald caused remarkable damage in the area, predominantly as a result of tornadoes produced by the system. For the year, the average rainfall is approximately 1,100 millimetres or 43 inches. The main rainy period is December to March, with May and June as secondary peak. The month of April is generally dry and sunny including months from July to November.