Why Us?
When your offer gets accepted, the next step is to get a solicitor for conveyancing,
Sometimes, the agent will recommend one. However, they may be getting commission from it so you might want to do your own research. Occasionally, some will go with a lawyer friend. While you're confident that a friend is trustworthy, if he does not specialise in property law, then you still should consider other options.
What you'll do now is make multiple quote requests online by which you'll make a price comparison on each. Take note that the cheapest is not always the best choice. The quality of work is most important because, ultimately, it is a hassle-free process that you're after.
At LEAD, you're sure your file is handled by a well-experienced property lawyer who will protect your interest as the buyer or seller.
Our Services
Gympie Conveyancing quote
Not all firms are the same. It's better if you can find one that specialises in property law. You need an expert, specifically for this field.
Here is what you need to look for:
Preferably a law firm.
A firm with property lawyers focused on conveyancing only.
A fixed fee for their legal services.
Transparent searches and costs for each.
Constant communication and consistent updates.
A firm that can do everything by phone and email. It's the 21st century!
At LEAD, you get all of the above. Our team consists of property lawyers only and they have been in the business for years. They know what to do in any situation of this business. You're sure that your interest is protected whether you're a seller or a buyer.
How we provide Cheap Price
Here is how we do it.
Specialisation
Use of modern resources
LEAD Conveyancing Gympie formed a team consisting of property lawyers only. Other law firms are still expensive because they have lawyers with other specialisation and these lawyers have a higher rate. By focusing only on the talent we need, we get to cut costs and enhance the experience in a specific area of expertise.
We also embraced 100% use of technology enabling us to eliminate the use of paper documents, wasted time on face-to-face appointments, and travel expenses. With this, we can provide legal services to clients at very affordable prices.
Why do you need Solicitors in Gympie?
To cut it short, both are licensed to perform conveyancing but solicitors have more scope and can protect you legally no matter how complicated the situation may be.
Conveyancers are limited to following a checklist or list of steps whereas property lawyers scrutinise contracts and let you know if potential risks are present. They may cost a bit more but you wouldn't want to be in a mess later on and spend more because of penalties and overlooked details.
When you get a solicitor, it's like putting on a bullet-proof vest before going to war. You're not sure you'll need it but it's better to have it and not need it rather than need it and not have it.
About Gympie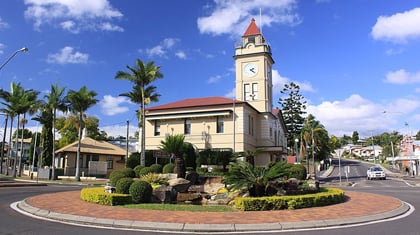 Gympie is a locality and a city in the Gympie Region, in the state of Queensland, in Australia. Gympie, in the Wide Bay-Burnett district,  is approximately 170.7 kilometres or 110 miles north of Brisbane, the state capital. The city rests on the Mary River, which occasionally floods Gympie. The administrative centre for the Gympie Region area is Gympie and it had a population of 51,578, as of June 2018.
Famous for its goldfield, Gympie contains a number of famous buildings recorded on the Queensland Heritage Register.
Buying a Property
Gympie has a range of heritage-listed sites, which include:
Brisbane Road: Monkland State School Residence
Channon Street: Gympie Court House
2 Caledonian Hill: Gympie Town Hall
Channon Street: Old Gympie Post Office
26 Channon Street: Gympie Lands Office
Channon Street: Surface Hill Uniting Church
Corner Nash Streets and Channon Street: former Queensland National Bank
17 Crown Road: former Gympie Ambulance Station
Church Street: St Patrick's Church
Mary Street: Gympie and Widgee War Memorial Gates
216 Mary Street: former Crawford and Co Building
199 Mary Street: former Royal Bank of Queensland
218 Mary Street: Tozer's Building
236 Mary Street: former Gympie Stock Exchange offices & club and former Australian Joint Stock Bank
235 Mary Street: Smithfield Chambers
242 Mary Street: former Bank of New South Wales
River Road: Gympie Memorial Park
39 Nash Street: Gympie School of Arts
Tozer Street: Gympie railway station
1 Station Road: Railway Hotel
Property Selling
The Gympie Gold Mining and Historical Museum have memorabilia from the gold mining era, and displays that showcase military, transport, rural, steam development, and communications in Australia. The WoodWorks Museum provides an understanding of the timber industry and the social history of days gone by through demonstrations and displays. Features include a huge selection of hand tools, bullock wagons, a 1925 Republic truck, and a blacksmith shop.
A tourist train that began operations in 1996, is the Valley Rattler steam train. It follows the Mary River through the plantations and forests of the Mary Valley to Dagun. The train leaves and returns to the Old Gympie Railway Station located on Tozer Street, which is an original railway station from the 1900s.
The town of Amamoor, which is approximately 25 kilometres south of Gympie, hosts the annual National Country Music Muster. The Muster, which is held in August for more than six days and nights in the Amamoor Forest Reserve, is the biggest outdoor country music festival in Australia.
Gympie's Mary Street offers a wide variety of cafes, bars, and shops with 19th Century Victorian architecture. Built in 1915 and listed on the Queensland Heritage Register, is the historic Railway Hotel. Built in 1890, the Gympie Town Hall Reserve Complex was added to the Queensland Heritage Register in 2011.