Why LEAD?
Your offer has just been accepted and the agent emails you a copy of the Contract and Section 32. What's next?
You need to have those two documents reviewed before you sign. To do that, you need to find a reputable conveyancing service. But what is it you should look for in a firm? Here's a checklist you can start working with.
Find a company with a fixed price for their legal fees.
Choose a firm that quotes with a breakdown of everything.
Go with a lawyer rather than a conveyancer.
There are firms that still charge by the hour. They will be too expensive and unnecessary. Today, you can already get a lawyer that offers a fixed price. Next, when you request a quote, you should get a complete breakdown of all costs. There are some who entice people with a seemingly cheap price but will hide other costs until they send you an invoice. Lastly, going with a property lawyer is worth the extra buck. A conveyancer may be a couple of hundred dollars cheaper but won't give you peace of mind.
Our Services
Selling Property Services
Once the Contract and Section 32 are in your hands, and you have engaged a solicitor, your solicitor should check every detail and let you know if it's good to sign.
You'll know you went with the right firm if they see this as a very crucial step. Once approved, you know it's safe for you to proceed with the purchase. If there's any risk for you as the buyer, it will be stated in their report. If you need to discuss with your assigned lawyer, they'll gladly allot time with you on the phone to explain everything. If you want to make amendments to the contract, your solicitor can provide proper wording and will liaise with the vendor's representative.
How we provide Cheap Conveyancing
Moonee Ponds Conveyancing Services
A lot of people are still scared to get a lawyer. Some say, "I don't need a lawyer. I just need a conveyancer."
That's because lawyers used to be expensive. It is still true for some. I've seen some who would charge $450 an hour! The reality is, though, you just have to know what to look for. There are law firms that offer legal services for reasonable prices. Here's how we do it.
We got rid of paper documents
We don't do face to face appointments
We only recruit a specific talent skillset
We are fully virtual and electronic
Why do you need Solicitors?
Buying Property Services
You may be thinking, "Is the extra 100-200 dollars worth spending for a solicitor?" The answer to that is yes.
A conveyancer will not be able to review your contract the way a lawyer can. If the contract is a complicated contract and you need to make amendments to re-negotiate, a conveyancer can't do that for you. They also won't be able to defend you legally. Some will tell you they have lawyers in their team but what they actually do is outsource to a law firm if the need arises. And then you'll get shocked at how much they charge! That's when you have no option to back out.
So unless you want to save a measly 200 dollars and gamble your way through the process, it's always better to get a reputable property lawyer.
About Moonee Ponds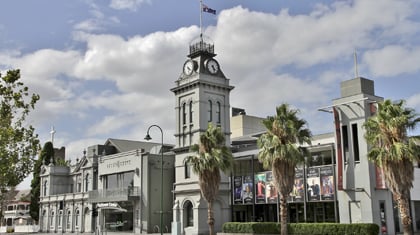 Moonee Ponds is a suburb of inner Melbourne, in the state of Victoria, about 7 kilometres north-west from the central business district of Melbourne. The City of Moonee Valley is its local government area and it had a population of 14,250 at the 2016 Census. Moonee Ponds is home to the Moonee Valley Racecourse and Queens Park.
The Clocktower Centre was originally constructed as the Essendon Mechanics' Institute, which was later purchased to become the Essendon Town Hall, by the State of Victoria. It is primarily used, today, as a large theatre. As well as serving for some interstate, international, and local functions, it has several conference rooms. It is also named after its notable clock tower.
The centre of the suburb is Moonee Ponds Junction, with buses, trains, and trams all converging in the area. Just nearby is the Clocktower Centre.
Buying
The main shopping street is Puckle Street and there are many cafes and shops along its length. At its wester end is Moonee Ponds train station and at its western end is Moonee Ponds Junction.
One of Melbourne's four horse racing tracks is the Moonee Valley Racecourse. Moonee Ponds Central Shopping Centre has many stores including Aldi, Kmart, The Coffee Club, EB Games, Man to Man, Smiggle and Moonee Ponds Sewing.
Moonee Ponds is home to many restaurants, too. Most notable among these are Carosello, Jack's Satay Bar, Philhellene, Khao San Road, and Darling St Espresso plus KFC, which is a traditional first date site for youth in the area.
Moonee Ponds Conveyancing Selling
There is a wide range of allied health professions in the area of Moonee Ponds, including Chinese medicine and acupuncture at Qi Medicine Acupuncture Melbourne, osteopathy at Beyond Fitness Health and physiotherapy at Platform 7 Physiotherapy.
Located in Moonee Ponds is Essendon Royals Soccer Club and plays in the Victorian State League. Moonee Ponds has an Australian rules football team, playing in the Essendon District Football League is Maribyrnong Park, and another, based at Ormond Park competing in the same league is Moonee Valley Football Club.
Located at the western end of Puckle Street is Moonee Ponds Station, on the Craigieburn railway line. Runs from the station to Aberfeldie is Bus route 467. You can see details of other tram/bus routes at Moonee Ponds Junction which is situated at the eastern end of Puckle Street.
The Moonee Ponds Creek Trail and Maribyrnong River Trail are cycling tracks in and around Moonee Ponds.