Why LEAD?
What do people want in a conveyancing service? Most people request maybe two or three quotes and then just compare prices. The sad part is that the better price does not necessarily mean you're getting the best deal. Here are a few things you should look for:
Go with a solicitor. Conveyancers can be cheaper but lawyers will give you security and peace of mind.
Look for one that has a fixed professional fee. Others still charge by the hour which will cost you a fortune.
The quoted price should always consist of the professional fee and search fees. Searches are always an estimated price.
Check reviews. Some companies fail at maintaining good communication throughout the process.
At LEAD, we are backed up by happy clients who keep coming back, recommending more customers.
Our Services
Selling Property Services
When buying a property, the two most important documents are the Contract of Sale and Section 32.
It is in your best interest to have these documents thoroughly reviewed before signing. It's also a wise move to have a property lawyer review them. This is one of the most crucial steps in conveyancing and if taken for granted or poorly done, it may cause problems and huge costs down the road. So when you see a company advertising "Free Contract Review", you better think twice.
It may seem free in the beginning but they can sneak it later on.
No one will spend money and time for years to be a lawyer and then give their services for free
At LEAD, we take these things seriously. It's the reputation of our business and license that's on the line.
How we provide Cheap Conveyancing
Bendigo Conveyancing Services
Our business was built with the aim to provide top-notch lawyer services to customers at the most competitive price possible.
A lot of people out there are still used to the traditional way of conveyancing. They're still used to face to face meetups and paper documents. That's too outdated! It's the 21st century and technology is here to make our lives easier and more productive. That's how we were able to achieve our vision.
Why do you need Solicitors?
Buying Property Services
Yes, conveyancers are cheaper than solicitors. But there's more to that than meets the eye.
Although both can do the job from start to finish, solicitors provide you with security because they can defend you legally should things get out of hand. When disagreements between you and the seller start, your lawyer can protect your interest and your money. Yes, a conveyancer will be cheaper by a few hundred dollars but would you take that in exchange for peace of mind?
Getting a solicitor is like getting an extra layer of protection for your 6-figure investment or new home bought from your hard-earned money.
About Bendigo City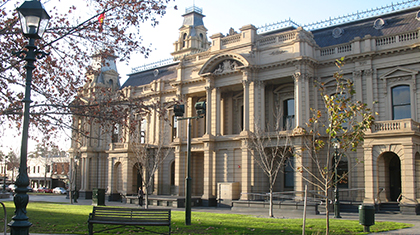 Bendigo is a municipality in the state of Victoria, situated in the Bendigo Valley close to the state's geographical centre and about 150 kilometres north-west of the state capital, Melbourne. Bendigo had an urban population of 100,991, as of 2019, making it the 19th-largest city of Australia, fourth-largest inland city, and Victoria's fourth-most populous city. It is the City of Greater Bendigo's administrative centre, which surrounds outlying towns spanning an area of an estimated 3,000 square kilometres and over 111,000 people. Residents of Bendigo are known as "Bendigonians".
Bendigo has a somewhat dry moderate climate with cool to cold winters and warm to hot summers. Under the Köppen-Geiger classification, it rests on a semi-arid/humid subtropical transitional climate zone, due to its position being on the border of the hot, humid inland areas up north and the cool, moist Southern Ocean down south. Bendigo gets 109.9 clear days every year.
Buying
The mean minimum temperature in the month of January is 14.3 degrees Celsius and the maximum 28.7 degrees Celsius, although temperatures beyond 35 degrees Celsius are usually reached. The highest temperature recorded was 45.4 degrees Celsius, during the southeastern Australia heat wave of 2009.
The mean minimum temperature in the month of July is 3.5 degrees Celsius and winter minima below zero degrees Celsius are noted 28 nights annually on average. The mean maximum temperatures for winter in July are 12.1 degrees Celsius. Most of the Bendigo's yearly rainfall of 582.1 millimetres falls between the months of May and September. Snowfalls are seldom; however, frosts can be a usual occurrence during the winter.
Bendigo Conveyancing Selling
The central business district of Bendigo consists of approximately 20 blocks of mixed-use area. Midland Highway is the main street. The section crossing the central business district is also known as Pall Mall, while Hargreaves Mall is where the main shopping area is centred.
The bordering urban area of Bendigo covers approximately 82 square kilometres of the 3048 kilometres of the local government area. Generally, the catchment of Bendigo Creek and its tributaries are occupied by the suburbs.
The city has a number of suburbs, some of which were, at a time, independent satellite townships and many that stretch into the neighbouring bushland.
Bendigo's suburbs include Ascot, Eaglehawk, California Gully, Eaglehawk North, Epsom, Ironbark, East Bendigo, Flora Hill, Golden Gully, Golden Square, Longlea, Kangaroo Flat, Junortoun, Kennington, Maiden Gully, Long Gully, North Bendigo, Sailors Gully, Quarry Hill, Spring Gully, Strathfieldsaye, Strathdale, West Bendigo, and White Hills.