Why LEAD?
Being able to find the right conveyancing firm can be challenging. Most people ask for 2 or 3 quotes from different conveyancers and just compare them. Most often than not, the deciding factor is the price. But how do you find the perfect solicitor if the price is not the most important factor for you?
Here is a list of things you should look for in a conveyancing company. At the same time, you'll see what you should be aware of.
Fixed price - fixed price should mean fixed professional fee. Searches are always an estimated price. There is no fixed total price.
Transparent costs - costs should be laid out. Contract reviews are sometimes inclusive but it can be a separate cost for others. There's no such thing as "FREE" contract reviews.
Lawyers - choose a solicitor, not a conveyancer. Going for a conveyancer for a difference of a hundred bucks or so maybe regretful when problems come in.
Our Services
Selling Property Services
After your offer becomes accepted and you receive a copy of the Contract and Section 32, what's next?
You need those documents reviewed prior to signing. Section 32 is the vendor's declaration on the property while the contract stipulates agreements between you and the seller. You have to get a lawyer to go through every detail. It is his or her duty to check for risks potential risks for every condition stated. When the contract is signed by both parties, we order searches in order to do background checks on the property. This is one of the reasons why hiring a solicitor is the wisest decision you'll make when buying a property.
How we provide Cheap Conveyancing
Caroline Springs Conveyancing Services
The service of a property lawyer nowadays is no longer expensive.
At LEAD, we have found the answer to every conveyancing client's needs. We provide top-notch lawyering service at a very competitive price. How? Simplicity is the key.
By making use of technology such as electronic documents and signatures, emails, smartphones, and messaging apps, we reduced approximately 50% on operational costs! Our process became more productive and efficient, hence, our quote is the cheapest you can find!
Why do you need Solicitors?
Buying Property Services
You probably have planned to own or owned an Apple iPhone. Getting the latest model is definitely expensive. After buying one from your hard-earned money, what do you do next? Of course, you'll want to get a phone case that offers the best protection! Even if it is more expensive than ordinary smartphone cases out there, you understand the value it offers and what you get from it.
It's the same as getting a solicitor. Imagine your latest iPhone is the house you're buying. You're going to put all of your hard-earned money into this. Will you go cheap on a conveyancing service when you clearly know the security a solicitor offers?
About Caroline Springs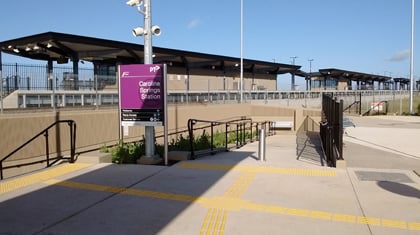 Caroline Springs is a suburb of the city of Melbourne, in the state of Victoria, 21 kilometres west of Melbourne's CBD, situated within the Melton City local government area. At the 2016 Census, Caroline Springs recorded a population of 24,205.
Since 1999, Caroline Springs has been developed on greenfield land by Delfin, in partnership with the first landowners. Located centrally is CS Square, known as the town square and main shopping centre, and Lake Caroline, which is a man-made lake.
Buying
It was one of Melbourne's fastest-growing suburbs, at the time of development, and by 2015, Delfin anticipated the population to be more than 25,000 people.
In August 2009, a 40 million dollar five-star hotel opened which is owned by the Mercure Hotels group. A new entertainment complex and hotel on the edge of Lake Caroline named WestWaters is now open. A $45 million development of CS Square has also been approved by Melton City. The addition of a Woolworths supermarket, car wash, large-format discount store, and more than ten specialty stores will be seen in this proposed 6,500 sqm development.
The car is the suburb's main form of transport and is a community largely dependent on cars. Caroline Springs railway station was among the new train stations proposed under the 2008 Victorian Transport Plan. It opened in January 2017.
Caroline Springs Conveyancing Selling
Kororoit Creek runs across the suburb's centre. The creek has been home to native animals for thousands of years, including the Eastern Blue-tongued Lizard, the Tiger snake, the Common snakeneck turtle, Kangaroos, and the Eastern brown snake. Unfortunately, these species are now rarely seen in the area due to development over the past 15 years.
Due to the spread of wetlands and large lakes, species of frogs have retrieved the area. The Eastern Banjo Frog, the Common Eastern Froglet, and even the now endangered Growling Grass Frog have been heard and seen in the new wetlands, lakes, and Kororoit Creek. Many bird species are also returning to the lakes and creeks. There are also a few kangaroos located in the endangered grassland bordered by College Street and Holland Way. These can be seen usually from the steel boardwalk.
It is anticipated that the Kororoit Creek Trail will be connected to Caroline Springs eventually, providing an off-road path to cyclists all the way to Sunshine and onto the central business district of Melbourne.