Need a conveyancing service done right the first time in Victoria VIC?
Get a no hassle, on time settlement with your emails & calls promptly returned. 
LEAD Conveyancing Victoria is the only property law firm with a
guaranteed fast response time
.
Communication & responses within

48 business hours, guaranteed*

or we'll deduct $100 from your

professional fee (no questions asked).
Work with a qualified conveyancing lawyer (Trinh Thai) at an affordable cost. You get a Lawyer from A to Z. Not a legal clerk.
Extra conveyancing care & hand-holding for First Time Victoria Buyers and Sellers.

Legal advice and support throughout the

process. Not just paper pushing.
Buying your existing or off-the-plan residential property
Including reviewing the Contract of your proposed purchase
Selling your existing residential property
Including drafting your Contract and S32 also known as a Vendor's Statement
Transfer services
between related parties
Stand-alone 
contract review services
Stand-alone 
section 32 and contract drafting services
What Our Recent Clients Say About Our Services…
Lead Conveyancing
Docklands, VIC, 3008
Need more services information?
Get a no obligation FREE quote.
LEAD Conveyancing Victoria
We service CBD and the greater area.
Victoria
Australia
1800 532 326
Why LEAD?
"Congratulations! Your offer for the property just got accepted. Here's a copy of the contract. Please revert back with a signed version so I can have the vendor sign."
Those were the words of the agent and yes, it's truly exciting to be on the first step towards getting your new home. Now you ask, what's next? The real estate agent, most likely, has also told you to look for a conveyancer or solicitor to act on your behalf and to do your conveyancing. You now search the web for options but how do you know which one to choose? How do you tell which has the best offer?
A lot of people out there basically request 2 or 3 quotes and just compare them based on pricing or gut feel. Well, price is first and then gut feel comes second.  However, that's not the smart way to choose. Here's how you can make an educated decision. Use this checklist and it will surely help you find a good firm.
Ask if they are property lawyers. It's a smart move to go with a solicitor rather than a conveyancer.
Ask if they have a fixed professional fee. Some lawyers still charge by the hour so skip on them.
Ask if the contract review is a separate cost. Some have it inclusive in their professional fee while others make it an optional step.
Ask for all types of costs applicable and will reflect in your invoice. Some hide costs by not discussing them to make their price look cheap.
Our Services
Selling Property Services
LEAD is a team composed of well-seasoned top-notch property lawyers who focus only on conveyancing.
Our professional or legal fee is a fixed price and our quote will clearly state what searches are ordered, what they are for, and how much for each. We also inform you of all the costs involved, even external ones because we know you have to calculate your expenses and prepare for them. We understand that missing out on this will cause problems with your budget.
Our contract review is a separate cost and an optional step. This is so because we understand that some clients will come to us with a fully-signed contract and thus, will not need the contract to be looked over. Your assigned lawyer will provide you with full assistance from start to finish at a flat rate so you don't have to worry if you'll have to take more time on the phone asking questions that require legal advice.
We are also known to maintain constant communication with our clients. A common problem you will find in reviews is conveyancers or solicitors not being responsive. In our case, we make sure emails don't get left unanswered and no calls remain unreturned in case you don't get to reach us in the first ring.
Also, our price is known to be one of the most competitive in the market. This is because of our business model which has been the vision of our company since it was established. It is to be able to provide quality lawyer service at the most reasonable and affordable price.
How we provide Cheap Conveyancing
Victoria Conveyancing Services
Being able to provide quality lawyer service at the most affordable price is not an easy milestone to achieve.
If it was, everyone should have already lowered their price down to the bottom. It is, however, pretty simple. We just have to forget about all the traditional ways of doing things and embrace new and modern means of getting things done. Here's how we did it.
No more paper documents. Everything is electronic, and contracts and documents are soft copies. They are easier and faster to transmit.
No more travel costs. Meetups and appointments cost money. Calls and emails get the same job done.
No more wasted lawyer costs. When a lawyer waits in a face to face appointment, it's their time ticking and that time is paid.
No other skills required. We are all property lawyers focusing only on conveyancing. Anything more than that is an unnecessary cost.
Why do you need Solicitors?
Buying Property Services
Getting a solicitor over a conveyancer is obviously a smart and wise decision. It may be a difference of 200 or 300 dollars at the most but what you're paying for here is security and peace of mind. A solicitor will be able to defend you and protect your interest no matter how complicated the situation may turn out while a conveyancer can only take you from point A to point B.
To illustrate it better, going through conveyancing is like playing poker against one opponent. You both don't know what one chooses – a solicitor or a conveyancer. It's a blind deal. Say you choose a conveyancer because you decided that the difference of 200 dollars is still money you can save, put inside your pocket, and use for other purposes. Later on, you and the seller enter into a disagreement because there is a clause stipulated in the contract which was not fulfilled. The vendor will not speak to you directly. Whoever acts on his behalf will reach out to whoever represents you to demand money or whatever they deem will satisfy their client.
It is, also, only at this point you realise that the team representing the vendor are lawyers. Do you think your conveyancer will stand a chance?
About Victoria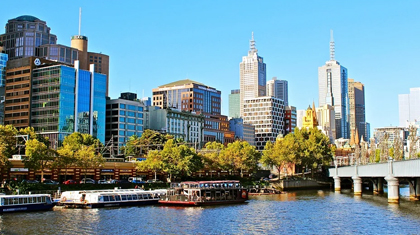 Victoria is a state in the southeast part of Australia. With a land area of 227,444 square kilometres or 87,817 square miles, it is the second-smallest state and Australia's most densely populated state (28 per square kilometre). Victoria is surrounded by South Australia to the west, New South Wales to the north, and is bounded by the Bass Strait (separating it from the state of Tasmania) to the south, Southern Ocean's Great Australian Bight portion to the southwest, and a marginal sea of the South Pacific Ocean called the Tasman Sea to the southeast. The state surrounds a variety of climates and geographical attributes from its mild coastal and central regions to the Victorian Alps going north-east and the northwest being semi-arid.
Victoria's population is above 6.6 million, the majority of which is dense in the central south area encompassing Port Phillip Bay, and in Greater Melbourne's metropolitan area, the largest city and the state capital of Victoria, and also the second-largest city of Australia, where more than three-quarters of the population of Victoria live. The state is also home to four of the 20 largest cities of Australia: Melbourne, Ballarat, Geelong, and Bendigo. The population is mixed, with 35.1 per cent of occupants being immigrants.
The economy of Victoria is the second-largest among the states of Australia, and is highly variegated, with service sectors prevailing. Culturally, Melbourne hosts numerous museums, theatres, and art galleries, and is also dubbed as the sporting capital of the world, and the spiritual home of the Australian rules football and Australian cricket.
Buying
The northern border of Victoria follows a direct line from Cape Howe to the mouth of the Murray River and then it follows the Murray River as the rest of the northern border. The border is the southern bank of the river, on the Murray River. This precise definition was not determined until 1980 when a decision by Justice Ninian Stephen of Australia's High Court settled the question as to whichever state had authority in the unlawful killing of a man in the middle of the river on an island. The decision clarified that no portion of the watercourse belongs to Victoria. The border also sits at the Great Dividing Range's southern end, which extends along the east coast and stops west of Ballarat. It is surrounded by South Australia to the west and splits Australia's shortest land border with Tasmania. The official border between Tasmania and Victoria is at 39°12′ S, which crosses the Boundary Islet in the Bass Strait for 85 metres.
Victoria has many geologically, topographically, and climatically mixed areas, ranging from the damp, temperate climate of Gippsland located in the southeast to the snow-capped Victorian alpine areas which extend to almost 2,000 metres or 6,600 feet, with the highest peak being Mount Bogong at 1,986 metres or 6,516 feet. There are spacious semi-arid plains to the northwest and west. There is a vast series of river systems in the state of Victoria. The Murray River system is the most notable. Other rivers include Goulburn River, Ovens River, Patterson River, Campaspe River, King River, Loddon River, Elgin River, Wimmera River, Barwon River, Snowy River, Thomson River, Latrobe River, Maribyrnong River, Yarra River, Mitta River, Merri River, Hopkins River, and Kiewa River. The state symbols include the pink heath which is the state flower, Leadbeater's possum which is the state animal, and the helmeted honeyeater which is the state bird.
The geographic centre of Victoria is situated in Mandurang at 36° 51′ 15″S, 144° 16′ 52″ E, according to Geoscience Australia. The small country town is located 10 kilometres or 6 miles to the south of Bendigo. Due to the region's historical ties to the gold rush and its central location, the town is widely known as the "Heart of Gold".
The capital of the state, Melbourne, contains about 70 per cent of the population of the state and dominates its media, economy, and culture.
Victoria Conveyancing Selling
Climate is one of the things property investors consider in an area. Victoria has a diversified climate despite its small area. It varies from semi-arid temperate with blazing hot summers in the northwest, to mild and cool along the coast. The mainland feature of Victoria, the Great Dividing Range, blows a cooler, mountain climate in the state's centre. Winters across the coast of the state, especially around Melbourne, are adequately mild.
The Great Dividing Range's coastal plain south has the mildest climate of Victoria. Air from the Southern Ocean helps lessen the hotness of summer and the coldness of winter. Melbourne and other big cities are situated in this temperate region.
The upper Wimmera and Mallee are the warmest regions of Victoria with hot winds coming from nearby semi-deserts. Average temperatures go beyond 32 degrees Celsius during summer and 15 degrees Celsius during winter. The inland monthly temperatures are 2–7 degrees Celsius hotter than around Melbourne except at cool mountain elevations. The highest maximum temperature of 48.8 degrees Celsius in Victoria was recorded in Hopetoun on the 7th of February 2009, during the 2009 heatwave of southeastern Australia.